Name: Frank Chen
Tel: +86 0769 3339 1945
Fax: +86 0769 8698 0069
Mobile: +86 134 8040 6275
E-mail: info@pinstech.com
Add: Xinwei, Caole, Xiegang Town, Dongguan,Guangdong, China 523592

Skype: frankchenwm
QQ: 372589717



Our factory manufacture various military dog tags and souvenir dog tags,pet tags. Regular Material usually include: Zinc Alloy, Brass, Aluminium, Stainless Steel, Stainless Iron,etc. You can have your logo on the dog tag with
2-D, color filling, silk-screen, off-set, lasering, etc.

Zinc Alloy:
For the designs which are complex or come with 3D, Cut-Out, Solid, zinc alloy is the best option.
Brass:
If you request a Metallic wegiht feeling and high-end collection, brass is what we will choose. And surely, unit price of brass items is usually higher.
Aluminium:
Aluminium is the lightest metal material we usually use. Regular finish process on aluminium include Oxidating, Wire-brushing, Spray-Painting, Vacuum Plating,etc. Logo can be silk-screen, color filling, laser, off-set,etc.
Stainless Steel:
Stainless Steel is a material good for etching process. Some details are too small or precise to do stamping. Etching is a good process which can be a good solution. Wire-brusing and polishing are the usual finish process.
Stainless Iron:
Some color changes can't be made with silk-screen. Then we will choose off-set printing. Stainless Iron is a most frequently used material for off-set. Dog tags of this material usually come with initial metal color, and wire-brushing too.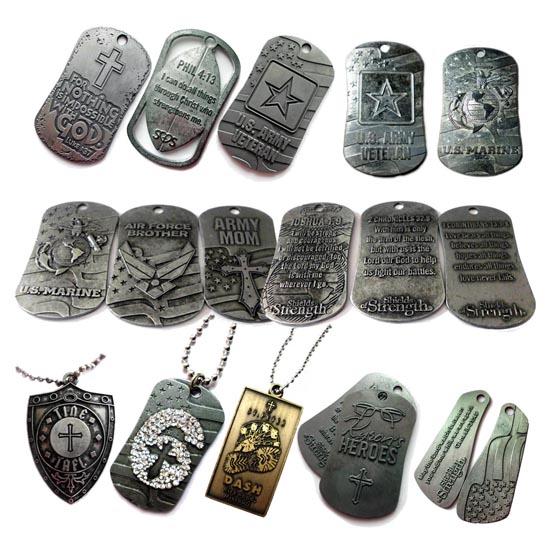 Total: 7
Page: 1 / 1
First
←Previous
Next→
End